Dear Readers,
I'm part of a Angela Ford's 2014 holiday blog hop this year, and since last Friday was the book launch of the anthology I edited, Magical: An Anthology of Fantasy, Fairy Tales, and Other Magical Fiction, I'm giving away three free copies of the book from now through December 15. Comment below with the title of a fantasy or fairy tale story that's affected you in some way, along with your email address, and you'll be entered to win a copy of this wonderful collection from 31 authors.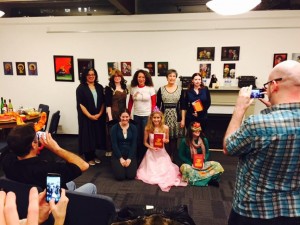 Here's is a photo of some of our happy contributors after their reading. I'm the one in the pink princess costume!
Angela Ford is doing a drawing on her site for a kindle and $25 gift card: Angela Ford's 2014 Holiday Hop Giveaway Link – Click Here. You will be redirected to a Pinterest Board, where you can PIN to WIN.
Please stop by and visit the authors listed below for more giveaways. Happy Hopping!
Jamie Brumfield  Amanda Bennett  Michele Mathews  Julia Mills Elizabeth Inglee Richards
Carol Ann Kauffman   Jennifer Chambers  Diane Rinella  Angela FordTerri Carle
Sharon KleveMelanie James Mariah Dietz   Serena Zane   Jennifer Conner  Amanda Bennett
R.E. Hargrave  Ella Medler    Aubree Lane  Rebecca Sherwin Teri Riggs
Ava O'Shay  Andie Lea  Dzintra Sullivan  Andrea Perno  Jennifer Theriot Chris Karlsen
Al ParksL.A. RemenickyEmma Lee Skye   A.L. Wood Jayne Hyatt Amber Daulton
Joanne Jaytanie  Kelly Cozzone   J.D. Hollyfield  Patricia Kiyono Elle Klass
T.I. Lowe  Tammy Tate  Jackie Marilla Casey Harvell  Denise Kawaii  Natalie-Nicole Bates  Kelly Ann Jacobson Moira Keith Michele Gwynn  Tracey Alvarez  Mary Bernsen