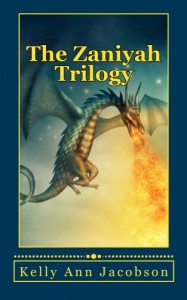 In Part One: Dreamweaver Road, Zoey, a sixteen year old farm girl with magical powers, does not know the extent of her abilities or how she got them. When her best friend is kidnapped by a wizard named Danger, she runs away from home and begins a quest to find him. On the way, she meets Angela, a witch who can see the future through dreams; Mother Shipton, her loyal cat sidekick; Will, a man who claims to be immortal; and Red, a dragon with a grudge.
In Part Two: Two Dragons, Zoey and Will must go on a quest into the Forest of Madrian to steal a magical object that might save Angela's life, but will they be able to steal it from the creature Krte and get back to the cottage on Dreamweaver Road in time?
In Part Three: The Battle, Danger marches on Dreamweaver Road. Zoey must seek help from the spirit world, but they give her devastating news: one of her friends will not live through the battle. Zoey rushes home in time to fight Danger's army, but will her powers be enough to stop him?
Purchase In Print
Createspace
Praise for Dreamweaver Road
"This lyrical and intense novel offers a glimpse into the cyclical and reoccurring fight between good and evil. This is one of those stories you wish would never end." J.L. Powers, author of This Thing Called the Future and The Confessional.
"With vivid imagery and a thought provoking narrative, Dreamweaver Road laces together rich characters in a magical setting transporting the reader into a phantasmagorical world."   Peter J. Goodman, Author   Win-Win Career Negotiations (Penguin Books)
"The year is 2013.  Zoey, a feisty, motherless, farm girl drives a red pick up truck.  But her best friend, Andrew, has vanished.  Zoey determines, "I want him back."  And so an expected ride begins because, beneath her normalcy, lie hidden magic powers, powers barely unleashed.  Where is Andrew?  Can forces of good overcome Danger's evil?  Zoey must face the age old quandary: will the obstacles undo the quest?  More so, if you are traveling with a cat, a husband from another century, and a shrimp of a dragon.  This debut romp of a novella is a modern day Wizard of Oz fueled by tactical twists a` la Harry Potter.  Read on.  This page-turner will make you smile and clap."       Anne Calcagno, author of Love Like a Dog