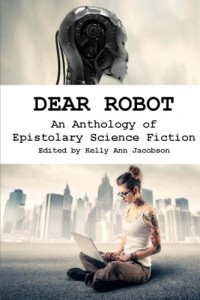 Like most authors, my desire to write books comes from my love of reading them. My library is stuffed with novels and poetry collections, and books crowd my stairs and hide in my closets. As a child, I read as many as five books a day during the summer, not just to win gift certificates at my local library, but because nothing outside seemed as exciting as the worlds in print.
When people ask me why I put anthologies together, the answer lies in those pages. I know what collections I'm desperate to read, and if they don't already exist, I compile them. For example, after I tried online dating, I created an anthology of true stories called Answers I'll Accept so that I could ready other people's good and bad experiences; after a night of yearning for an adult fairy tale to read before bed, I created Magical: An Anthology of Fantasy, Fairy Tales, and Other Magical Fiction for Adults.
Dear Robot was no exception. I was driving to work in the morning when the idea came to me: I want to read an anthology of epistolary science fiction. I knew there were science fiction collections, and I knew there were epistolary collections, but I had never heard of an epistolary science fiction collection before.
But you shouldn't, I told myself. Remember how much work the last one was? Remember the number of times you told your now-husband that you would NEVER EVER IN A MILLION YEARS do another anthology ever again?
Then, as I pulled into the college parking lot, the title came to me.
Now that was a book I had to read.
***
During the Dear Robot blog hop, which starts on Monday, November 30th and runs until Friday, December 4th, Dear Robot contributors will be posting their own inspiration stories on their blogs. Anyone who comments on either this blog post or any contributor's blog hop post from now until the end of the day on Friday will be automatically entered in a drawing to win one of five copies of the anthology (please be sure to leave your email address in a way that cannot be spammed, for example: name (at) gmail dot com).
We are also running a Goodreads Giveaway from now until December 10th.
The list of participating authors are as follows:
Monday
Tuesday
Wednesday
Thursday
Friday
***
Don't forget to comment below for a chance to win!