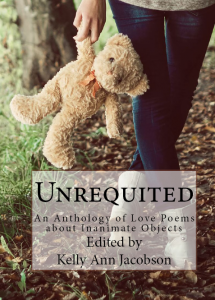 The Unrequited anthology is OUT TODAY on Amazon! It will be available for Prime shipping once the processing time goes through (probably about 2 days), but in the meantime, add it to your cart :). It's also available via the createspace eStore.
I am SO PROUD of this beautiful book, which is filled with 76 amazing love poems by such talented poets. Putting it together was such an honor!
The Unrequited launch will take place on Friday, June 17 at 7:00 PM! Check out the facebook event page here.
Here's what people have said about Unrequited:
This anthology is itself an inanimate object springing to life through poems that titillate and caress. –Karen Paul Holmes, author of Untying the Knot
If you think love poems are trite, filled with clichés or have nothing new to say, then you haven't been reading the right odes about the exquisite pain of heartbreak. –Jen Karetnick, author of American Sentencing
The theme of this collection has been a long time coming. Kelly Jacobson has brought together a myriad of poems which speak to the comfort and possession that bring the human spirit both pleasure and perplexity. –wren thompson-wynn, poet
The forbidden and funny reside next to lawn gnomes and lightning, as these poets gather to give tribute to the ordinary and extraordinary objects of their affection. This love may not be returned, but it is certainly rewarded. –Mandy L. Rose, poet