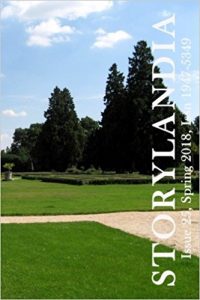 Miranda is a novella in stories published by Wapshott Press as the 25th Issue of Storylandia.
Purchase on the Wapshott page here or the Amazon page here.
***
"The large sitting room of the Rolling Hills Club was empty, save for the flickering candles and the menus that stood like protecting arms around their flames. The tables were covered with empty wine glasses, cocktail glasses, and snifters floating on napkins or abandoned on the side tables. Stray napkin balls sat like cats under the sofas and littered the floor."
This is the Rolling Hills Club, a place where Philadelphia's rich—including Miranda Anderson, the socialite who ties the seven stories in Miranda together—come to spend their time and money. From general manager of the club to Miranda's best frenemy, the other characters in these narratives show what kind of person Miranda is—and what kind of person she might become.