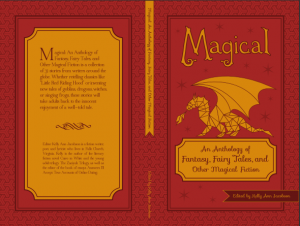 Purchase on Createspace
Createspace Print
Purchase on Amazon
Amazon Print
Purchase for Kindle
Kindle
  Magical: An Anthology of Fantasy, Fairy Tales, and Other Magical Fiction is a collection of 31 stories from writers from around the globe. Whether retelling classics like "Little Red Riding Hood" or inventing new tales of goblins, dragons, witches, or singing frogs, these stories will take adults back to the innocent enjoyment of a well-told tale.
Editor Kelly Ann Jacobson is a fiction writer, poet, and lyricist who lives in Falls Church, Virginia. Kelly is the author of the literary fiction novel Cairo in White and the young adult trilogy The Zaniyah Trilogy, as well as the editor of the book of essays Answers I'll Accept: True Accounts of Online Dating.
In addition to being an awesome collection filled with awesome contributors, editor Kelly Ann Jacobson has also decided to donate 10% of all Createspace proceeds now through Christmas to Tim's Team (Timstr87 Foundation), a foundation to help raise awareness of cystic fibrosis and a cause special to Kelly's heart. Although she never had the pleasure of meeting Tim, he was the brother of one of her very dear friends.
Even if we can't make magic real, we can do some magical good in the world with our stories.
You can find the table of contents here: Table of Contents
Press for Magical