This post is part of the Candlesticks and Daggers Interview Series run by contributor Sati Benes Chock. For more about the book, please follow the link here.
***
Mackenzie Dwyer's Prose Poem "Paragraph as Martyr as Killer"
I cannot look away from his slim body. His left shoulder blown off, his right one inked. A spear wedged beneath him. I let the focus slip from my eyes, and edges turn to curves. A rifle emerges: pointed, blurred.
/
Interview
Can you tell us a little about how you became a poet?  Did you always know that you wanted to be one?
Far from it! Previously I'd looked ahead to prose pursuits, and I only opened to that long, rich tradition of teens writing poems the September of my eighth grade year. It was then that a current love interest showed me pieces of his own, my reaction to which exceeded expectations. Passive consumption proved not to suffice, and poetry writing overtook boy and fiction as yours truly's latest passion.
Who are your favorite poets? What is it about their writing that you admire most?
First, I'll go ahead and preemptively expand my stated echelon of favorites to include my contemporaries. In direct challenge to poets' stereotyped obsession with posterity, I find that they continue to confront themselves, one another, and our sociopolitical scene in real time. They ensure, moment to moment, that the poem as art/statement/whatever-the-hell-it-wants retains its forward force. It's a thrill to appear alongside the necessary work my contemporaries are doing.
Next: I estimate that for a good long time I'll find myself returning to Anna Świrszczyńska, popularly referenced as Anna Swir, and Ocean Vuong, my contemporary-of-sorts whose luminary ways border on the solar. Ocean—it seems right to use his first name, not that I know the guy—not only anticipates, inhabits, and helps to lay down the ultra-contemporary style. He's internalized and steered the vagaries of the English language as one clenches, then busts out a hard-won breath. I say this not to imply a sense of undue effort from him but to convey his work's gorgeous strength, its muscled vulnerability. (Yes: with "muscled" I lift from the New Yorker's praise here: http://www.oceanvuong.com/.)
With Swir I take a different turn. I find myself hoping I won't explain. Maybe my evasiveness lets her better speak for who she is: a poet, a playwright, a feminist and mother, a resistance fighter in war-torn Poland. In that vein, I introduce her here as I was introduced to her.
"Thank You, My Fate"
Great humility fills me,
great purity fills me,
I make love with my dear
as if I made love dying
as if I made love praying,
tears pour over my arms and his arms.
I don't know whether this is joy
or sadness, I don't understand
what I feel, I'm crying,
I'm crying, it's humility
as if I were dead,
gratitude, I thank you, my fate,
I'm unworthy, how beautiful
my life.
Translated from the Polish by Czeslaw Milosz and Leonard Nathan
Your prose poem "Paragraph as Martyr as Killer" is the shortest work in the anthology, and in fact, it might be the shortest prose poem I've ever read! How did the idea behind this work evolve–was it something already bouncing around in your head, or was it inspired by the anthology call?
The idea for "Paragraph as Martyr as Killer" sprang from a salient dream that, for years, percolated until something one surreal afternoon made me set it down. Subsequently—and doing greater justice to the original narrative—the poem turned into a flash fiction work which has yet to find publication. (Editors, I'm looking at you.)
You have an impressive publishing record for–don't kill me for saying this–one so young! If you could tell beginning writers one thing about the publishing process, what would it be?
Screw humility. In homage to Swir, do it literally, even. Hold fast to your idealism and self-belief. It'll step up the attachment to your darlings and the burn of rejection, yes—but retaining any momentum or conviction in the publishing process equals an aim to explode your work in others' faces. Even if cleaning up takes years for the arbiters of literary tastiness, you will have laid them out quite the digestive prospect.
Do you find that you often return to the same themes in your work? And if so, what are they?
I have obviously yet to run the gamut of amorous experiences and impressions, my attunement to which most of my forthcoming work is going to reflect. To a sadly lesser extent, you can also expect the meaty confessionals, the science-fantasy musings, the self-deprecation/empowerment, the personal/political indictments, etc., etc. It's safe to say I'm among the most mystical of atheists—you'll find me trying to excavate the power and poeticism in everything down to mundanity itself.
Some writers have rituals that they feel helps them with the creative process. Do you employ any rituals, or do anything regularly that helps keep you on track with your writing?
In this respect, at least, I absolutely conform to stereotypes about youthful writers. For, even still, I do my work in the rawest sense. Routine and I are like two ships passing in the night. (One retains the tasteful cliché and lets the insight from ye older writers come rolling in.)
Any future projects that you'd like to tell us about?
Perhaps my sufficiently answering this question counts as a future project! In the short term I'll stick to school, jobs, and chipping away at positive pieces/pieces of change.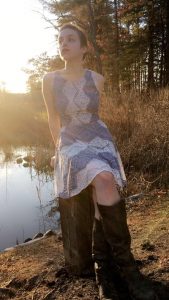 About Mackenzie Dwyer
Mackenzie is seventeen, neuroatypical, and (wants to be) intense AF. When she became literate, she vowed to ensconce herself among writers and words. This transpired intuitively and with few questions asked. A high school dropout + early college entrant, Mackenzie quit her first job teaching children how to punch each other, so the only small bodies she's helped impact this past year include some 11 presses and anthologies. (Yet neither does she shy from larger bodies: the Scholastic Art & Writing Awards keeps emailing her about Gold Keys, and hello, she's even received a personalized rejection note from THRUSH.)