This post is part of the Candlesticks and Daggers Interview Series run by contributor Sati Benes Chock. For more about the book, please follow the link here.
***
Katie Manning's Poem "I Took Your House Slippers Too"
When the last of your belongings were strewn across your bed and dresser, I took all of your lotion. The large bottle from the bathroom counter. The small bottle from your purse. Now even these are gone, and every time my dry skin bleeds, I think of you. When I can't file away the deep cracks on my heels, I see your feet. I wonder what they look like after two years underground. When we gathered around the open hole to throw in flowers and see your coffin one last time, I dropped my flower on your right side, just above my well-worn house slippers that I had tucked beside your hip at your viewing before I brushed back your bangs and kissed your cold forehead goodbye.
Interview
You are the founding editor of a poetry journal and a writing professor at Point Loma Nazarene University in San Diego. Which means that you are very busy! How do you find time to work on your own things?
I get asked this question a lot. I'm also a mother of two, the Area Chair of Poetry Studies & Creative Poetry for the PCA/ACA, an active member of my church….
I often write in the mornings or late at night. I sometimes steal moments to scribble down ideas that I'll return to another time. I've been creating poems since before I could write, so it's a compulsion for me that happens even when I'm busy with other things. Fortunately, the other work that I do synergizes well with my writing; in fact, the professor gig requires that I continue to write and publish, and I get some good support from my university.
Can you tell us a little about how you became a poet?  Did you always know that you wanted to be one? Do you ever write short stories?
As I already mentioned, I started composing poems before I could write. I always wrote poems throughout my youth, but I never thought of myself as "a poet." It really wasn't until I took a college course in poetry that it clicked for me: I could work at poetry and be a poet. It didn't have to be something that I just did when inspiration struck once in a while.
I did win a prize for a short story about a rabbit flying a kite when I was in first grade. 😉 I do still write short stories, but they tend to exist in that blurry space between prose poetry and flash fiction.
Who are your favorite poets? What is it about their writing that you admire most?
I have so many, of course, but some of my favorites include Edna St. Vincent Millay, Gwendolyn Brooks, Elizabeth Bishop, Lucille Clifton, Sylvia Plath, Audre Lorde, Carolyn Forche, Rita Dove, Natasha Trethewey….
One of the things that I admire with all of these poets is that their poems transport me into situations and places that I wouldn't otherwise get to experience in my own life.
Your "Three Poems" are bittersweet prose poems addressed to your grandmother, who left you much too soon. Was your grandmother a writer, too? In what ways did she inspire you? For that matter, do you find yourself frequently inspired by family?
My Granny wasn't a writer, but she is the one who helped me write down the first poem I made up when I was four; my book Tasty Other is dedicated to her. She did read poetry to me, as did my mom, who also wrote poems for me sometimes. I always knew my mom's favorite poem was Frost's "Stopping by Woods on a Snowy Evening." My family certainly encouraged my love of reading and writing, and I do find myself writing about my family often.
You are an award-winning poet who has published a number of chapbooks. If you could tell beginning writers one thing about the publishing process, what would it be? And as founding editor of a poetry journal, could you share your thoughts on submissions? 
I think the most important thing for beginning writers is to be persistent. It took me over 40 submissions to literary journals before I got my first poem accepted for publication. There's a lot of rejection in publishing, so you have to celebrate the rejections, too, because that means that you're putting your work out there.
As an editor, I'd say that the most important thing for submissions (after actually revising the work so it's the best it can be) is simply following each journal's guidelines. Here is a post I wrote for Editing Addict that has a few more tips for submitting poetry: "How to Submit Poems for Publication."
Do you find that you often return to the same themes in your work? And if so, what are they?
I feel like my work is always shifting, but despite the variety of content and styles, I can see that I am turning over some of the same themes across projects: faith, grief, memory, women, family.
Some writers have rituals that they feel helps them with the creative process. Do you employ any rituals, or do anything regularly that helps keep you on track with your writing?
I try to spend time on writing every day. I used to write every night after my shower; the shower seemed to clear my head and let me generate ideas, so that was a useful ritual. Now that life is a little more chaotic with two kids and my time is less predictable, I don't have much ritual left. I write when I can!
Any future projects that you'd like to tell us about?
Always! I'm currently working on a full-length poetry manuscript that uses the Bible as a word-bank in protest of using language from the Bible out of context as a weapon against certain groups of people. A chapbook selection of these poems was published last year by Agape Editions as A Door with a Voice. I'm also working on a series of poems that use board games as a starting place to explore love, memory, and grief, and I'm working on this sequence of prose poems about/to my Granny as well. I've never had so many projects in process at once, but it feels good to have the variety and to move between these very different styles of creating.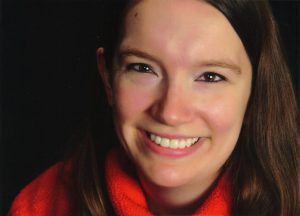 About Katie Manning
Katie Manning is the founding Editor-in-Chief of Whale Road Review and an Associate Professor of Writing at Point Loma Nazarene University in San Diego. She is the author of four poetry chapbooks, and her first full-length poetry collection, Tasty Other, is the 2016 winner of the Main Street Rag Poetry Book Award. Find her online at www.katiemanningpoet.com.