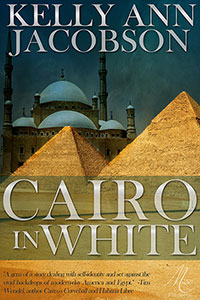 Purchase audiobook on Audible
Amazon
Purchase book on CreateSpace
CreateSpace
Purchase book on Barnes & Noble
Barnes & Noble
As Cairo swelters in the summer of 1986, spunky Egyptian teen Zahra pins on her hijab and faces the heat like a warrior, prepared to risk everything for a secret rendezvous with her lover. But after climbing the Ahmeds' wall and sneaking into their household, Zahra's parents catch her and force her to choose between telling them the truth about her relationship with the Ahmeds' daughter or marrying the son they think she's been sneaking there to see.
Years later, Zahra's American daughter, Aisha, steps off a plane at Cairo International Airport and greets her grandparents for the first time. Who is this tall girl wearing black clothes, piercings, and a pixie cut, they wonder, and what secrets does she hold? Zahra and Aisha's lives unfold together as they both grapple with their religious beliefs, social pressures, love, and the search for a place to call home amidst the feminist movement and the Arab Spring.
Cairo in White Book Club Discussion Guide
Praise for Cairo In White
""Anchored by family, culture and love, this story about enduring relationships is a joy to read." – Kirkus Reviews
"Kelly Jacobson brilliantly weaves the coming-of-age story of a headstrong Egyptian daughter, Aisha, with the remembered regrets of the mother who raised her within narrative so smooth the reader only remembers to pause during moments when Jacobson's lyricism glints so brightly one must slow to admire. With grace and great detail, Cairo in White speaks of loneliness and love, of expectation of self versus obligation, and of cultures starkly different but, ultimately, blurred. I couldn't put it down, nor could I choose which protagonist I was most drawn to. Wholly engaging and absolutely artful."   -Brandi Dawn Henderson, author Whereabouts: Stepping Out of Place
"A gem of a story dealing with self-identity and set against the vivid backdrops of modern-day America and Egypt."   -Tim Wendel, author Castro's Curveball and Habana Libre
"Kelly Ann Jacobson is a natural writer, with a fluent and musical prose rich in detail, and a special gift for narration, a keen sense for the way a good story unfolds for the reader. She's very, very talented and I'm sure "Cairo in White" is only the first of many wonderful books." – Nels Hanson, James. D. Phelan Award for fiction, five-time Pushcart Prize nominee.
Reviews
Best Books of 2014, Melody and Words (January 1, 2015)
A Review of "Cairo in White" by Kirkus Review (July 9, 2014)
A Review of "Cairo in White" by Blogger Melody Wilson (February 20, 2014)
Author Blog Posts and Essays
"AUTHOR'S NOTE:  Kelly Ann Jacobson on Cairo in White," Mom Egg Review (March 21. 2014)
"Culture Clash in Cairo," The Tufts Get Going Radio Interview (October 15, 2014)