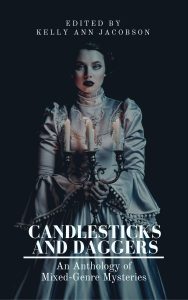 Purchase Now
Paperback - Amazon Purchase Now
Paperback - Createspace
Candlesticks and Daggers is an anthology of short stories, poems, and personal essays that mix mystery stories with elements of other genres, including romance, science fiction, horror, fantasy, and more. Mystery solvers from Sherlock Holmes to the local cat lady must figure out not only whodunit, but cross time, space, and even reality in order to do so.
About the Editor: Candlesticks and Daggers is Kelly Ann Jacobson's fifth anthology. Besides editing, Kelly is the author of several novels and poetry books, including Cairo in White and I Have Conversations with You in My Dreams, and she works as a professor of English. Under her pen name, Annabelle Jay, she writes young adult novels.