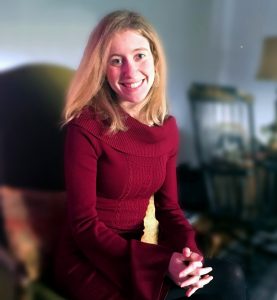 Kelly Ann Jacobson is a fiction writer, poet, and editor who lives in Falls Church, Virginia. She received her MA in Fiction at Johns Hopkins University, and she now teaches as a Professor of English. Kelly is the author of several published books, including the novels Cairo in White and The Troublemakers, and her first book of poetry, I Have Conversations with You in My Dreams, was published in 2016. She has edited several anthologies, including Dear Robot: An Anthology of Epistolary Science Fiction and Candlesticks and Daggers: An Anthology of Mixed-Genre Mysteries. 
Her work, including her published short stories, poems, and nonfiction, can be found at www.kellyannjacobson.com.

Sign up here for her newsletter for updates and event information.
Click here for Kelly's Facebook author page, to follow her on Twitter, or to see her profile on Goodreads.